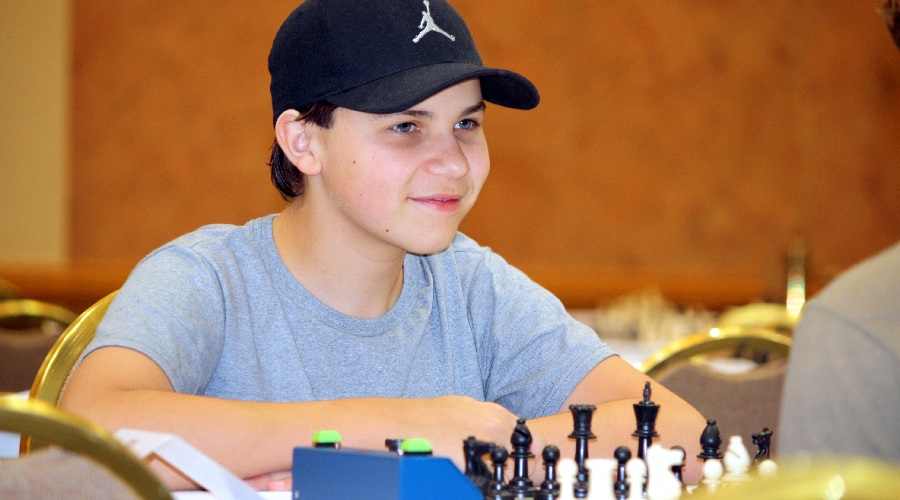 BIOGRAPHY
Luke Harmon-Vellotti (age 14) is a 3x National Chess Champion and a 5x All-American Chess Team member. He is also the current highest rated player under the age of 15 recognized by FIDE, the international governing body of chess. He is a FIDE Master with two norms gained over the past year in intense competitive chess play. He is also just one performance away from becoming an International Master, the first ever from his home state of Idaho.
Luke's joy of chess play began at the age of 3, when he watched his brother win a chess trophy at a local tournament. A born competitor, he decided then and there that he would be a chess champion. He quickly learned how to play, and took 1st Place in his very first chess tournament
His dedication and commitment to mastering the game became apparent as he started to compete in National events and win. Soon, Luke was playing many levels above his own grade section and becoming a National Champion in both standard and quick chess.
Back home at the age of 9, Luke was crowned the High School Champion of his state. Many newspaper articles and news reports covered his rapid rise in the chess world. By the age of 10, Luke wrote his first chess book called "How I Became an Expert". By age 12, he was a National Master.
Luke is a natural student who loves to read chess books and solve chess puzzles. He is admired for training in chess every day since he four, taking a break only once per year on his birthday. He has always looked for the toughest competitors everywhere, and he would enter only the strongest tournaments he could find around the country.
His resilience and determination are much admired from students and coaches everywhere. A fierce competitor who is never afraid to lose, his signature tournament look includes a Michael Jordan baseball cap. He wears it to remind himself that losing is a part of building himself into a champion, just like the motto of the legendary basketball player.
As a celebrity in his home town of Boise, Luke spends time passing on his love of the game to students everywhere. He assists in classes at the local Boys and Girls Club, and also at educational workshops for gifted students. His favorite charity moment was running a 20-board simul to raise disaster relief funds for Haiti after their devastating earthquake in 2010.
You may read two of the latest articles about Luke here:
"Another Little Genius??" by International Master David Pruess: http://sponsorluke.com/Another_Little_Genius.pdf
Chess Master Brian Wall's Top Ten List: http://sponsorluke.com/Brian_Wall_Analysis.pdf
THE DREAM
This site offers an opportunity for private donors to support Luke on his quest to become the youngest Grandmaster in U.S. history - a record previously held by Bobby Fischer and now held by 15-year old Fabio Caruana. This will make also him the first person to reach the elite level of Grandmaster in Idaho history.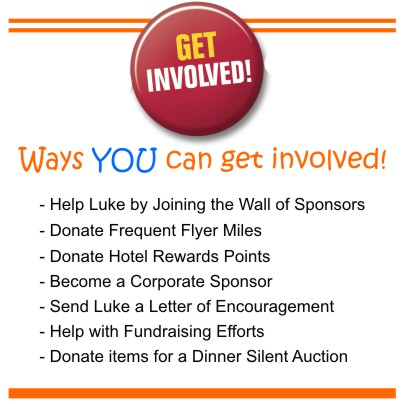 Sponsorship for such an effort is essential and is being provided for other youth players around the world by their governments, but state and national assistance for chess does not exist in the United States.
Many expenses are incurred along the road to this pinnacle of success which include travel expenses to significant tournaments (most of which are located on the East or West Coasts or internationally) and training expenses including the prestigious U.S. Chess School. One of the most often incurred expenses for elite chess tournament players are the entry fees to tournaments which can range anywhere from $300 to $500 per entrant.
Through this website, we are seeking to reach out and enlist the help of all supporters who would like to see an American player reach the pinnacle of global chess, the winning of the world championship.
Donors will have a chance to challenge, take private lessons or have a lunch or dinner with Luke. Any 2013 donor will have the opportunity to become a founding member of the website and will get a monthly e-mail newsletter. Please click on the "Sponsors" button if you would like to make a donation to the Luke's chess training fund. You may also view above all the different ways that you can help Luke as he dares to challenge and become the world's best!